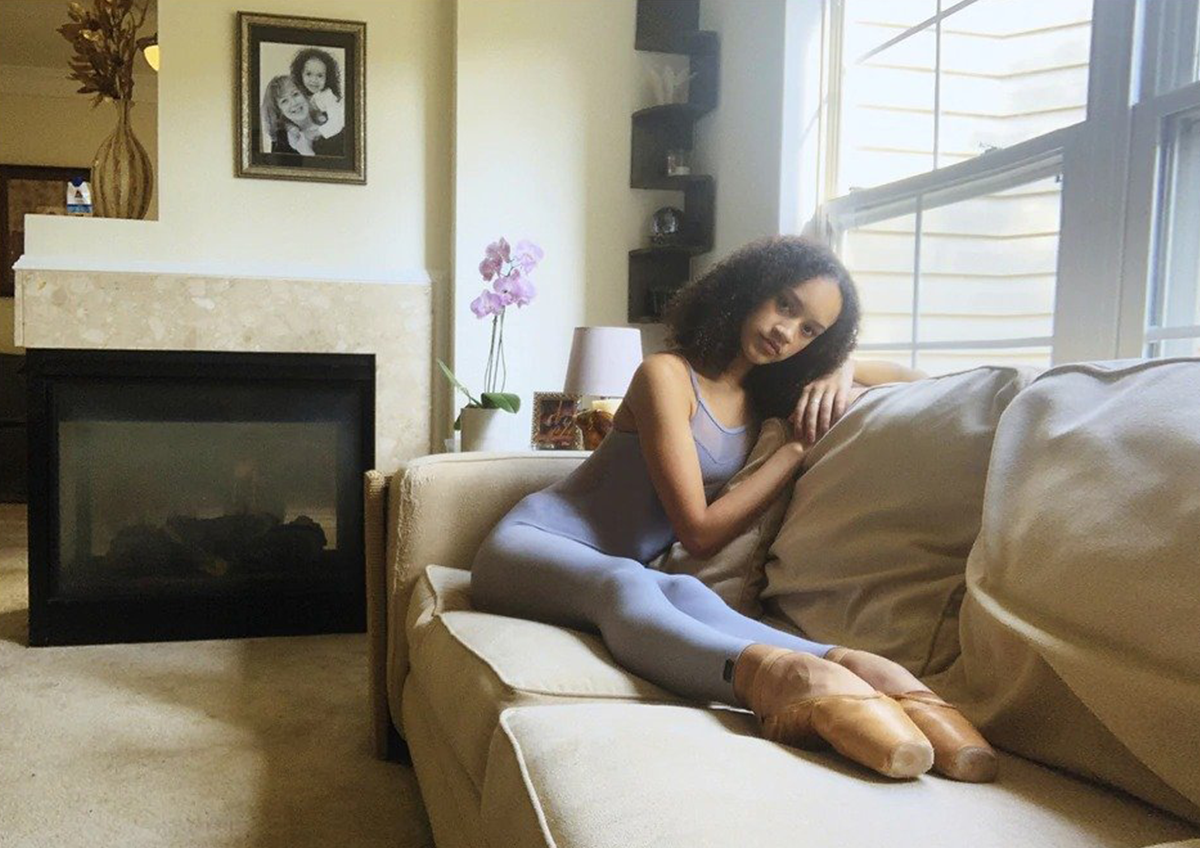 The Elevé Project: Kaeli Ware
Posted on
This month we talk with preprofessional
dancers about what it's like going back 
into the studio after the shut down. 
Our first muse is the stunning 
Kaeli Ware.
This beauty recently joined Ballet West 
as a trainee and is already back working hard,
preparing for shows, and perfecting her craft.
Q: What kept you inspired in isolation?
A: To be honest, it was very hard to find inspiration. Going from being in class with amazing dancers and always having teachers constantly motivating you to being stuck in a house without that in-person interaction was tough. I've since tried to challenge myself to find other forms of inspiration such as watching videos on YouTube and just picturing where I want to be in the future. When I felt down I just tried to remind myself that this is only temporary and we're not going to be stuck at home forever.
Q: Did you learn anything new about yourself or pick up any hobbies during quarantine?
A: I didn't really picked up any new hobbies, but I liked the fact that I got more time to do other things that I enjoy. There's always positives in negative situations and I think that's one of them. I love to read and do anything crafty. I obviously loved the fact that I got to be at home with my mom because I've lived away from home since I was 16 and this is probably the longest I've gotten to see her since then! Dance-wise, I've learned how to dance for myself more because in class I tend to try to impress the teacher instead of dancing for myself!
Q: Have any cross-training tips to stay strong while not having rehearsals all day or access to a proper gym/pilates or ballet studio?
A: I actually didn't cross train too much while at school because I was dancing around 6 hours a day. By the time I got done, my body was too exhausted to do anything else, which is okay because it's important to rest when you're training so hard. While I was home I was able to experiment with doing only one technique and pointe class each day and then incorporating a floor barre or workout in. Even though I was dancing less I feel like I have gotten stronger by evening out the amount of dance vs. exercises.
Q: What has been your go to ballet/dance look for virtual classes?
A: It didn't changed too much because I feel like I have to look the part in order to be the part. So many things are out of our control right now so putting on a leotard and tights gives me some sense of normalcy. However, I've really liked the fact that I can wear colored leotards every day, since at my school we had to wear black Monday-Friday!
Q: You trained at The Rock School. How was your experience participating in their Online Summer Intensive?
A: It is definitely a different experience than in-person intensives and I really miss seeing my friends and doing the normal activities. However, Covid has deepened my love and appreciation for ballet, so I am really grateful to be able to train with the amazing teachers from Rock, even from afar!
Q: Do you have a role model?
A: So many! I have a lot of role models in dance, but as a person, my mom inspires me a lot! Seeing all the hard work she does motivates me to do the same and I'm really grateful for everything she sacrifices for me to do what I love! Dance-wise, I am honestly just inspired by successful dancers who have come before me. In the last few years, since being at The Rock School, I have been motivated by the dancers who are alumni of the school. Seeing these amazing professional dancers, who were once students just like me, really encourages me when I'm having a hard day and lose faith in myself!
Q: Do you have a dream ballet/production to dance in or a favorite ballet role you have performed?
A: My ultimate dream ballet is Don Q. My favorite role I have gotten to perform is either Snow Queen or Arabian in The Nutcracker! The whole snow scene is just so beautiful and I love Arabian because it is very different than anything else!
Q: What has it been like beginning your new experience as a trainee with Ballet West and how has it been returning to the studio, taking class, and rehearsing? What has been affected by the pandemic? Are you required to wear masks?
A: It has been incredible so far! I'm learning so much every day and I'm loving every second! It is definitely different than normal. We have to wear masks and socialdistance as much as possible. It took a while to get used to breathing while dancing in a mask, but now I think it's good cardio and I am learning how to control my breathing.
Q: What is the plan for Ballet West's 2020/2021 season? Will it be live in-person performances? Streamed? Online content?
A: I'm not exactly sure at the moment. Of course the plan is to do performances, but we just have to take it day by day. It's a little bit hard because we are preparing for performances that we aren't sure if we will get to dance on stage. The trainees do a lot of public school performances in the fall, but we're not sure if we'll be able to do those. We are hopeful that our Spring season will go as planned!
Q: Many companies were forced to cancel their Nutcracker this season. This is usually when many of the new dancers get to shine. Will Ballet West still be having Nutcracker Performances this year? If not, is there a different plan to showcase those just starting out with the company?
A: Ballet West is still planning to do Nutcracker performances with some alterations. We aren't allowed to partner yet and they are being very strict about keeping the company separate from the academy in order for everyone to stay as healthy as possible. The trainees usually get to perform with the company for Nutcracker, but since we have to stay separate from them, the current plan is to have the academy perform all of Act 1 and the company perform Act 2! That is all the information I know at the moment, but again, we just have to take it day by day. I don't even think the staff knows exactly what will happen, but I would say worst case-scenario, we would film it without an audience and put it online!
Q: Do you have a favorite Elevé Style? If so, which one?
A: I generally lean towards the more simple styles, because I love a clean line, however I love the laces and patterns that Elevé has! I'm also obsessed with low backs! It's so hard to pick a favorite, but right now I'm loving the Naomi and the Ali.
Available to US customers only at this time.
Reply STOP to cancel, HELP for help.
Msg&data rates may apply.
Terms & privacy: slkt.io/7Gtt
6 Msgs/Month.
Choosing a selection results in a full page refresh.
Press the space key then arrow keys to make a selection.