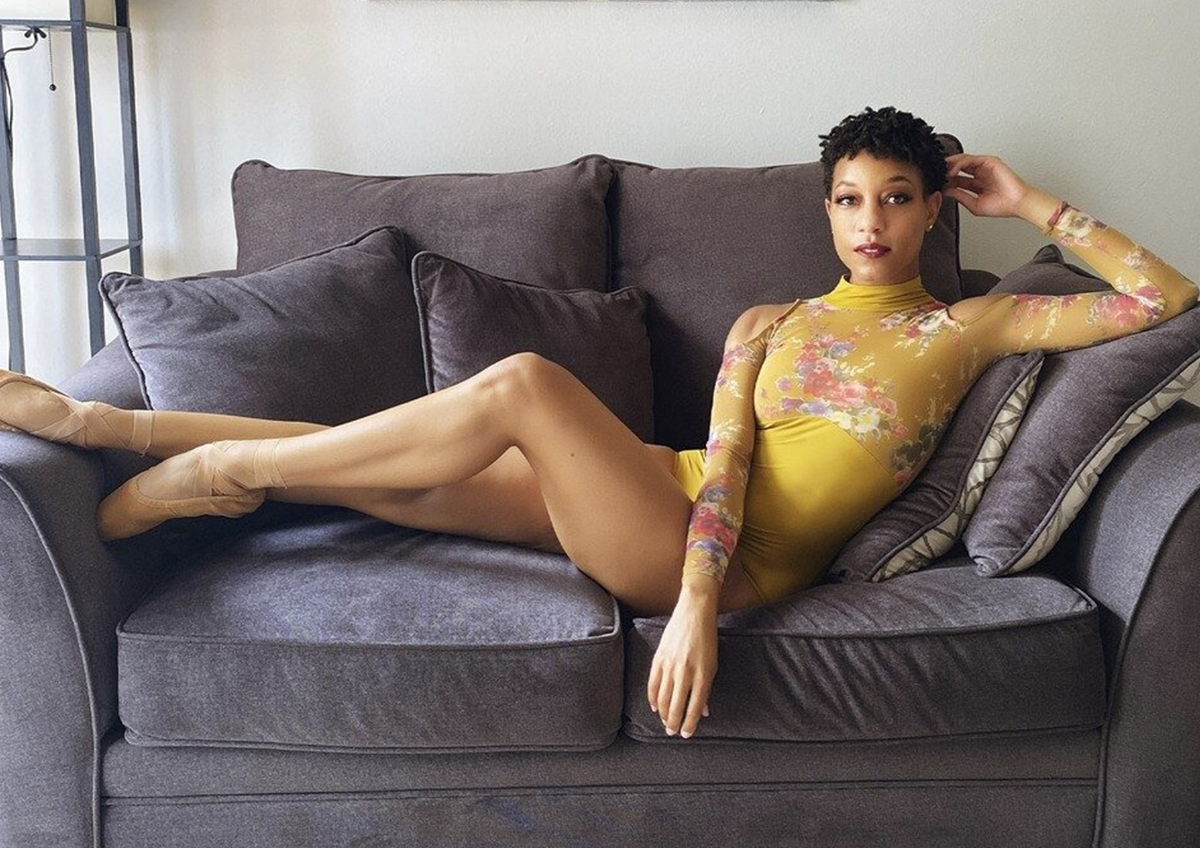 The Elevé Project: Miyesha McGriff
Posted on
We've known our next muse since she was a
teenager and we're honored today to share what
she's been up to these last few months. 
Introducing the gorgeous and talented 
Miyesha McGriff. 
Q: How are you staying inspired during these times of isolation? 
A: Staying inspired has been really hard during this time. I've found that trying to create a daily schedule helps, but the biggest thing that has helped me is mentoring and teaching when I can. Knowing that someone is looking to me to keep them positive and help them feel good, makes me feel good. Even if it is virtual. 
Q: Have any cross-training tips to stay strong while not having rehearsals all day or access to a proper gym/pilates or ballet studio?
A: During this time, it's been challenging for me to stay on the path of cross-training and staying in shape for the upcoming season. This pandemic has taken a huge toll on me mentally but I will say, what has helped keep me motivated has been doing yoga and trying to keep my mind positive. Youtube has become my best friend for workouts, yoga, and pilates!
Q: When and where did you begin taking ballet lessons? How was it being a dancer of color and did it affect your path to becoming a professional?
A: When I was 5, I started taking classes at a dance school in Kansas City called Westport Ballet School. Shortly after, they closed and I joined Kansas City Ballet School (at that time it was called State Ballet of Missouri). In both of these schools, if I wasn't the only dancer of color in the room, there were very few. 
I don't think I realized how hard it was to be a dancer of color until I got older. I would notice certain opportunities I would never receive. I didn't make a fuss, just thought it was normal. I didn't want to believe it was because of my skin, but I couldn't find any other reason why. It wasn't until I went to The Ailey School where I was nurtured differently and there were many dancers that looked like me, even though this school was predominately based in modern training. This feeling continued throughout my training as I got older. 
In college, I had professors that took the time and introduced me to opportunities such as IABD (International Association of Blacks in Dance) to help me feel more included, but it really wasn't until I was a professional that I noticed this is where my training suffered. I wasn't confident in my dancing because I was always put in the back. I never felt that what I did was good enough. Put that into the many "no's" you receive and go to auditions where no one looks like you, or not going to an audition because no one looks like you, you always feel behind. At least that's how I felt, until joining Collage Dance Collective.
Q: Tell us about the company you dance for, Collage Dance Collective.
A: Collage Dance Collective is based out of Memphis, TN. I'm going into my fourth season and I've been in AWE ever since I joined. Collage has a mission to inspire the growth of ballet by showcasing a repertoire of relevant choreography and world-class dancers representative of our community. Providing a space for us to grow as well as show our community that there are very well trained dancers of color. 
Most attendees of our performances have never seen dance or attended a live show, so it's great to know that we are reaching our community and connecting with them in a way they hadn't experienced before. So many come back and our audience continues to grow. They also have an amazing school that is currently the largest dance school of color in the south!
Q: We've heard Collage Dance Collective has a wonderful outreach program within its conservatory. Can you tell us a bit more about what is done there and how, through the art and dedication of ballet, we can change the course of someone's life?
A: As a dancer of color, to be able to be around people that look like you, and receive great training does more to the dancer than you could ever imagine! These students are learning things such as how to pancake their shoes, wearing color tights, embracing their different bodies, which is empowering at such a young age. These kids can go on knowing that they CAN be dancers, because they see their company members. 
Representation is HUGE and we have it! Not to mention, that training and dedication bring so much more value and discipline to the students that they will carry with them for the rest of their lives, even if they decide not to pursue dance.
Q: Now more than ever it is important to stay engaged with our community and find new ways to perform and bring art to all. How is your company evolving with the new uncharted territory of COVID-19 and social distancing?
A: Collage took the time to check in with everyone, including our supporters, just to let them know that we are all in this together. Everything changed to an online presence and we really tried to reach our community in that way. There were online adult classes, Instagram lives, the students continued to have class online, just to name a few. We introduced our dancers in a more personal way. It was so cool to have a spotlight that showed who we were not just on stage, but when we are at home just like everyone else. 
Collage also released some full-length works to inspire our community that our work reflects our time, as well as some collaboration projects with the National Civil Rights Museum and Dance Theater of Harlem. If you would like to see some of the great things we have done, please visit our website www.collagedance.org
Q: Where is the first place you'd like to travel to when it's safe to do so again?
A: The first place I'd like to go when it's safe to do so is honestly the studio with my coworkers. They are like family and it's been really hard being away from everyone.
And finally...
Q: What is your favorite Elevé style?
A: My favorite Eleve style is Rachel! It's so simple, but accentuates all my curves in a classy and elegant way. I also love Fabiola and even Miyesha is growing on me. 
Available to US customers only at this time.
Reply STOP to cancel, HELP for help.
Msg&data rates may apply.
Terms & privacy: slkt.io/7Gtt
6 Msgs/Month
Choosing a selection results in a full page refresh.
Press the space key then arrow keys to make a selection.